Dov Gruner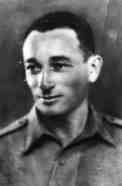 Born on December 6, 1912, in Hungary. In 1938 he joined Betar, and two years later immigrated to Eretz Israel aboard the Skaria, an illegal immigrant vessel organized by Betar.
After spending six months in the Atlit internment camp, he joined the Betar company at Rosh Pina, and then found his way to the ranks of the Irgun. In 1941, he joined the British army in order to fight the Nazi enemy, and together with his comrades in the Jewish Brigade came to the aid of Holocaust survivors in Europe.After his demobilisation, in March 1946, he resumed his activity in the Irgun and joined its Fighting Force. While still on demobilisation leave, he took part in the requisition of weapons from a British army depot near Natanya. Ten days later set out on his second and last operation - the attack on the Ramat Gan police station .He was severely wounded, caught by the British and sentenced to death. He was 35 when he went on April 16, 1947 to the gallows, together with his comrades - Alkahi, Dresner and Kashani.
A letter from Dov Gruner before he was hung by the British to Irgun leader Menachem Begin. 1947 (interpreted from Hebrew)
from The Conquest of Acre Fortess by Jan Gitlin, 1982: Hadar:
Sir,
From the bottom of my heart I thank you for the encouragement which you have given me during these fateful days. Be assured that whatever happens I shall not forget the principles of pride, generosity and firmness. I shall know how to uphold my honour, the honour of a Jewish soldier and fighter.
I could have written in high-sounding phrases something like the old Roman 'Duce est pro patria mori', but words are cheap, and sceptics can say 'After all, he had no choice.' And they might even be right. Of course I want to live: who does not? But what pains me, now that the end is so near, is mainly the awareness that I have not succeeded in achieving enough. I too could have said: "Let the future take care of the future.' and meanwhile enjoy life and be contented with the job I was promised on my demobilization. I could even have left the country altogether for a safer life in America, but this would not have satisfied me either as a Jew or as a Zionist.
There are many schools of thought as to how a Jew should choose his way of life. One way is that of the assimilationists who have renounced their Jewishness. There is also another way, the way of those who call themselves 'Zionists' - the way of negotiation and compromise, as if the existence of a nation were but another transaction. They are not prepared to make any sacrifice, and therefore they have to make concessions and accept compromised.
Perhaps this is a means of delaying the end but, in the final analysis, it leads to the ghetto. And let us not forget this:
in the ghetto of Warsaw alone, too, there were five hundred thousand Jews.
The only way that seems, to my mind, to be right, is the way of the Irgun Zvai Leumi, the way of courage and daring without renouncing a single inch of our homeland. When political negations prove futile, one must be prepared to fight for our homeland and our freedom. Without them the very existence of out nation is jeopardized, so fight we must with all possible means. This is the only way left to our people in their hour of decision: to stand on our rights, to be ready to fight, even if for some of us this way leads to the gallows. For it is a law of history that only with blood shall a country be redeemed.
I am writing this while awaiting the hangman. This is not a moment at which I can lie, and I swear that if I had to begin my life anew I would have chosen the same way, regardless of the consequences for myself.
Your faithful soldier, Dov.

------
There have been many famous Betaris throught our long history. You can click on the links below to read about these special and brave individuals.