'Orange fever' strikes Israel, Campaign colors country to stop Gaza evacuation

Aaron Klein- Wednesday 13th Jul 2005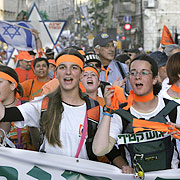 EDITORS NOTE : BETAR UK WHOLEHEARTEDLY SUPPORT THE JEWS OF GUSH KATIF. IF YOU WANT TO SHOW YOUR SUPPORT & REQUIRE ORANGE RIBBONS FOR YOUR CAR PLEASE EMAIL US.
JERUSALEM – It has spread like a fierce contagion. People wear it. Billboards shout it. Kids distribute in on the streets. See it dangling from cars, buses, baby carriages, backpacks. It's the color orange and it is everywhere.

As Prime Minister Ariel Sharon's plan to evacuate the Jewish communities of Gaza and parts of the West Bank on Aug. 15 draws closer, grassroots anti-withdrawal campaigns have geared up exponentially. With the color theme of orange, signifying the citrus groves that thrive in Jewish Gaza, the plan is to have as many Israelis as possible drape the country in orange to protest the evacuation and show solidarity with the Jews who must vacate their homes.

The campaign has been quite a success. It's nearly impossible to navigate most busy streets in Jerusalem, Tel Aviv, Haifa or other major cities without seeing a significant percentage of cars proudly displaying orange ribbons. Stand outside most pedestrian malls, shopping centers or bus stations and witness countless Israelis wearing orange T-shirts or with orange ribbons tied to their arms, back packs, baby strollers, some even sticking out of their underwear.

"Orange is everywhere. And the campaign is just getting started," said Ezra Fein, 22, an American immigrant who leads one of several hundred orange-ribbon distribution sites in Jerusalem.

The orange is being handed out by various anti-withdrawal organizations. Throngs of teenagers are spending their afternoons standing on street corners and at intersections with boxes of orange. Ribbons are usually free or about $1. T-shirts and hats range from $5 to $15, with profits usually going to charities related to Gush Katif, the largest slate of Jewish communities in Gaza scheduled for evacuation.

"It's for the cause, man" said Tzippy Newman, a Jerusalem resident who can usually be found distributing orange on a popular street corner in Jerusalem's Rechavia neighborhood. "The response is very positive. I'd say about half the cars that pass by take the ribbons."

Takers are not confined to private cars. Taxies, even public buses are sporting orange.

Now, with schools about to break for the summer, anti-withdrawal organizations are preparing to put to work thousands more teenage volunteers. At least two day camps have been formed with the specific purpose of Gush Katif activism. One, near Israel's Ben Gurion international airport, will send campers out during the day to distribute ribbons and information outlining the drawbacks of the Gaza evacuation.

The literature labels the Gaza withdrawal plan a reward for terror. It warns Hamas will use the territory gained to stage attacks deeper inside Israel, and details what it calls the "humanitarian crisis" of "forcing Jews to leave the homes they've lived in for 30 years." It also points out Jewish biblical connections to Gaza.

"The orange is impossible to ignore. It shows just how many Israelis are against the Gaza expulsion plan," anti-withdrawal activist Yekutiel Ben Yaacov told WND. "I'm sure Sharon sees it on his way to his office. It has to be getting to him."

Recent national polls here have realized large drops in support for the Gaza evacuation.

A public-opinion poll conducted earlier this month for Israel's daily Yediot Aharonot showed 53 percent of Israelis favor the Gaza disengagement and 38 percent are opposed. In a previous poll, conducted for Yediot in February, 69 percent said they supported the evacuation and 27 percent opposed.

Another poll, on June 13, determined 51 percent of Israelis are against the planned evacuation if it is carried out under fire, while only 37 percent support it.

As well, Ben Yaacov has been conducting a survey of his own that has drawn some controversy. He is director of Mishalot Yisrael, a group that has set up polling stations throughout Israel to ask participants whether they would rather kick out Jews from Gaza or expel Palestinians from Israel. The group says it is finding a majority of Israelis want the Palestinians booted.

In January, Mishalot commissioned Mutagim, a major Israeli polling company, to conduct a survey regarding the Palestinian transfer plan. The certified results showed a plurality – 39 percent of the general Israeli population – said they favor the mass transfer of Palestinians, while 37 percent favor Sharon's Jewish evacuation plan.

"It just shows the general trend," said Ben Yaacov. "You can see it in the polls. You can see it in the orange now everywhere in the country. There is an obvious huge drop in support for the Gaza expulsion. And Israel is now painted in it."

---
Aaron Klein is WorldNetDaily's Jerusalem bureau chief, whose past interview subjects have included Yasser Arafat, Ehud Barak, Shlomo Ben Ami and leaders of the Taliban.