Abu Mazen, The Holocaust Denier and Terrorist

Prof. Paul Eidelberg, Israel- Wednesday 18th Jun 2003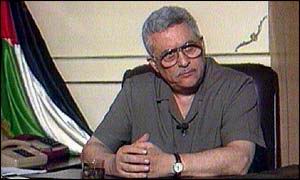 A little more than a decade ago, PLO chief Yasser Arafat, the godfather of international terrorism, was sanitized in Washington as a `moderate.` This benign assessment not only made Arafat eligible to walk with Israel along the road marked `territory for peace`; it also enabled Washington to guide the adversaries along that road with a good conscience.

The Oslo or Israel-PLO Agreement of 1993 is a consequence of that purblind assessment of Arafat. So is the murder of more than 1,000 Jews.

Now the erstwhile moderate Arafat has become `irrelevant` and must therefore be replaced by another Arab `moderate.` Enter the PLO's number two terrorist, General Secretary Mahmoud Abbas aka Abu Mazen.

Having been appointed `prime minister` of the Palestinian Authority — Arafat remains its `president` — Abu Mazen now has the diplomatic credentials to join Israel on the road to peace guided by Washington's `road map` (never mind the `Quartet`). That road leads to an Arab state and the return of countless Arab refugees, with the consequence that there would be more Arabs than Jews between the Jordan River and the Mediterranean Sea. With Abu Mazen—or virtually any Arab—as that state's prime minister, its goal will be nothing less than the `Final Solution` to the Jewish problem.

Invited to the White House, Abu Mazen will be lionized by policy-makers and opinion-makers as the one man that can salvage the Oslo `peace process.` What other attitude can one expect from the Americans, seeing that he has been made kosher by the Sharon Government simply by deleting from Abu Mazen`s dossier the fact that he is Holocaust Denier.
What needs to be added is that for Abu Mazen to be acceptable to the Arabs, he must indeed be a terrorist, and no minor one. Only a prominent and accomplished terrorist can put an end to terrorism and make peace with Israel—or so certain `pragmatists` thought of Yasser Arafat.

Needless to say, this is not how the public perceives, or is given to perceive, things. The pragmatists purvey the term Arab `moderate` for the consumption of the media and the masses. It should be understood, however, that these pragmatists deceive themselves in the process of deceiving others. Their expectation of Arab `moderates` is but a manifestation of arrogance steeped in ignorance. To paraphrase the Austrian statesman Metternich: `To expect the leaders of despotic regimes to be moderate is like expecting them to destroy the foundations of their existence.`

Abu Mazen, who was trained by the Soviet Union as a terrorist, knows that terrorism is not merely a tactic, but a great `equalizer` having moral significance. It was terrorism that induced Israeli politicians like Yitzhak Rabin, Shimon Peres, Benjamin Netanyahu, Ehud Barak, and Ariel Sharon to negotiate with and thereby dignify Yasser Arafat. By so doing they placed murderers on the same level as their victims. This is how `moral equivalence` entered the Middle East peace process. It was not the media so much as Israeli prime ministers that prepared the ground for `moral equivalence,` to which pundits have succumbed by denigrating Israel's retaliation against Arab terrorists.

This moral leveling or obscurantism underlies the Sharon Government's attempt to sanitize Abu Mazen. Sharon himself has admitted that his son Omri taught him `not to think in terms of black and white.` This makes it all the more easy for Mr. Sharon to walk hand-in-hand with Abu Mazen along the road to a Palestinian state.
Of course, we are told that this will be a democratic state, one that shuns terrorism. We are thus given to believe by prime minister Sharon that prime minister Abu Mazen, an arch terrorist, is well qualified to usher in this democratic and peace-loving state. If Mr. Sharon believes this, then he has succumbed to a disease fatal to Israel, the same disease that afflicted Shimon Peres who became the partner and apologist of Yasser Arafat - a `moderate` who became `irrelevant` after soaking Israel in Jewish blood.